Koshihikari
March 24, 2017
During mornings in the Sawara fields,
the Watanabe family tends to the rice.
Hours spent wading in the paddy fields.
Ready to harvest, soil cracking and crumbling.
Burlap bags stuffed with Koshihikari and Mochigome.
Mr. Watanabe drives a rusty pickup on a bumpy road to the market.
Sacks of different types of rice are bought and sold.
Farmers rush in with rice and fly out with yen.
Farmers return to families, pockets no longer empty.
Mr. Watanabe returns with glee,
knowing he can buy clothes for his children.
The family ecstatic to have their father back.
The Watanabes can rest for now,
but the Koshihikari and Mochigome has much to do.
The Watanabe's yield is dispersed all across Sawara.
Children run through the bustling markets,
watching men hammer the simple rice into Mochi.
Kids beg parents for yen to buy these rice cakes.
Several sushi stand across the market
sport fresh fish and Watanabe's Koshihikari.
Onigiri and bento are rushed home by dozens.
As hundreds enjoy the fruits of Mr. Watanabe's labors,
The children laugh and converse with their father,
Counting the days until their father has to return to the fields.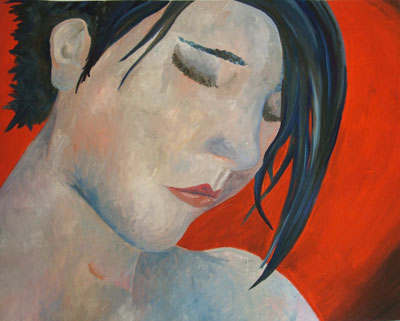 © Lindsay S., Billings, MT