Failure Changed with Taste
March 24, 2017
Circles pile below her deep brown eyes, each with crooked lines confining,
and a dirt-rubbed, ghostly pallor, showing years of distress.
Her face reveals a gooey, dense, and chocolatey goodness entangling within.
A splash of water over her face turns brown and it hits the bottom of the sink,
as the children run circles, adding to her headache.
Her breath reveals the slight hint of bourbon aroma leaking from within.
Millions of hysterical thoughts lead to another sleepless night,
and push her to extremes to fight her eyes shut.
Her energy reveals the three extra shots of espresso intermixing within.
After stumbling over mahogany figures to find the lightswitch by the door,
she treks on her familiar trip down the hall.
Her demeanor reveals the misshapen java chocolate chips hiding within.
Opening the drawer and the freezer simultaneously, so close to her escape,
she scoops an inevitable heaping bowl in the middle of the night–
revealing the "ahh..." in her "Exhausted Parent" life, sweet and creamy within.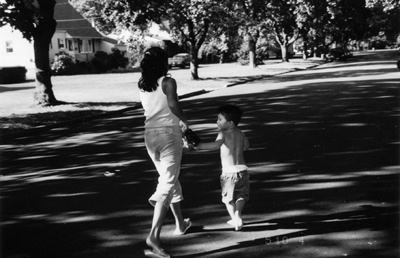 © Angelica M. Pequannock, NJ