An Eagle's Scrapbook
March 23, 2017
It's only a gray book
color that is dull, lifeless and dark.
The outside has a darker gray image of an eagle
in the middle there you find the only color on it's outside
its red background with a picture of blue and white.
The book opens to a past of colors and younger self's
from the first stormy camp outs
to the sunniest of canoe trips.
All my struggles and hard work and bonds that I made.
All our traditions
of burning spoons and playing euchre
and every dumb idea
where I walked on frozen waters and jumped heights that can break me.
All left in frozen time to look upon
you can see the past, the present
but no future.
Those pages left empty so I can discover it myself.
In the book hangs a medal
a medal with red white and blue
and that same eagle as on the front cover.
It has the knot of bonds
and holds those bonds through its tough steel.
It's an award only so few earn
but that so many set out to earn.
This medal gives the right to fly
to fly high
to fly over the mountain I climbed.
Only to look down to see my tracks
ones I regret and ones I'm proud of
I see all of my past
I see the clear area where I camped for years
I didn't move from the spot.
Only if I did
Would I fly even higher today.
But this story is carried in a dull lifeless gray book
with the darker gray eagle on the front
and small picture of a
proud boy in uniform of red, white and blue.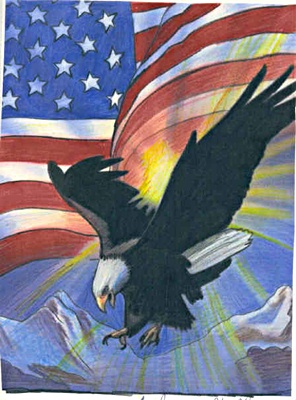 © Andrea G., Middle Village, NY