To Renuka
March 15, 2017
As we sit there in the foyer,
You recline with that expression,
Boredom, yearning, wanting action,
This talk tortures you.
But I do not talk,
I look,
Observe,
Your pained expression,
For your pursed lips,
Your drooping eyes,
Are more informative than
A thousand novels.
Your being — more beautiful
Than any sunset, sunrise,
  Or painting.
Nothing provides me with more joy,
Than knowing you exist.
I could live a thousand lives,
But never fully absorb
What you think,
Feel,
  Desire,
   Love.
For you are beautiful and complex,
And not even life itself can fully capture it,
Nothing do your amazing self justice,
  Not even your vehement lover.
  But I will try.
If you are dejected, rejected, deterred,
Life not quite panning out—
I will be there on your doorstep,
Waiting for you.
If we one day become strangers,
Not only to ourselves,
But to each other,
I will see you in a crowd on a rainy day,
And I will not forget,
As the fire shall forever burn.
If we one day become separated,
I no longer know where to go
To find you,
I will stop somewhere,
Waiting for you.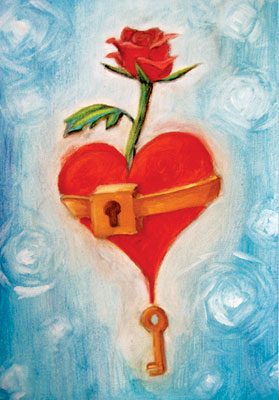 © Louisa L., Pleasanton, CA