Butterflies with knives
March 12, 2017
The butterflies fly fast in my stomach.
Moving forward makes them fly faster,
they get more reckless, more vicious.
Cutting and tearing away my stomach
until it is painfully empty and worn.
The butterflies are like soldiers.
I move forward, they fly faster.
Their stabbing flutters intensify.
Flying fast and fierce.
I hold my stomach,
brutally flying,
they flutter,
they stab,
they fly.
Brutal.
A crack.
I tap. Crack.
I tap again. Crack.
Butterflies fly fast and fearless.
Their joyous flutters float outward
like a stampede of tiny wildebeests.
I tap, they fly faster and more fearless.
I slowly release my stomach, they flutter,
they inspire, they freely fly into the greater world.
They are like winged angels, rousing and inspiring.
My stomach is full and fresh as they fly fast and fearless.
The faster and fiercer butterflies fly, the stronger I become.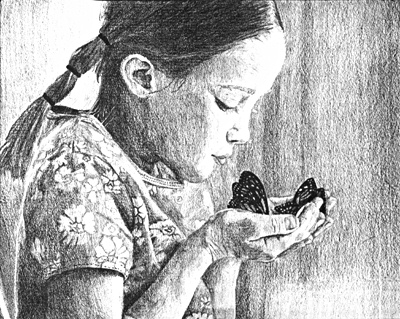 © Alina L., Holland Patent, NY