Why Water Runs
March 9, 2017
It began on the earth at nightfall
When the telephone was answered by a woman
Wearing debauchery like a perfume.
There was a bearded man with her--
A guest in her bed--
Though she was long defamed, a caution sign
Slurred with wicked words in bubblegum pink--
She was hospitable
And well trusted with secrets
And so fate descended and she received
The future like a last rainfall promising
Amber beams to come with flowers
Buried in green the hue of the motel carpet in the '70s.
It was her own voice she heard on the phone,
Rasping with the age she hadn't yet achieved.
"My dear," the voice said, "what is today?"
The woman answered.
"Then there is still time," the voice croaked with joy.
"Firstly, stop dyeing your hair
The color of rust to hide your gray.
There will come a day when the earth will share
Your rust red color--
The water saw it first.
From the beginning of time it's fallen
And ran down the earth as far as it might--
Knowing someday it would not have its freedom
From the sky.
Stop crying over the things you can fix,
Start saying what you mean.
Stop running
And start finding what makes you happy.
And wash off your face when you're alone--
Your eyes are bright,
Your lips are soft,
And someday you will enjoy having wrinkles--
You'll tell stories to little children where you'll point at those
Crinkles and say, 'These are what rivers once looked like.'"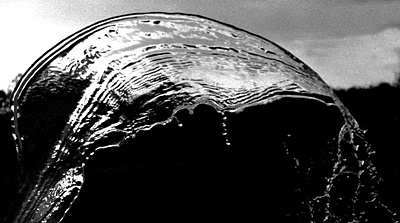 © Kellie S., New London, NH