The Cardinal
March 1, 2017
Cardinal
Your eyes shine like the solar eclipse
Your mask like a robber's, black as night
Your back a scarlet velvet curtain
Your head a fiery crown
Your strong wings are sails in the wind.
You catch a fat worm
In your radiant beak.
Your milk chocolate babies
Chirp pleadingly
For their tasty treat.
Your now moonlit wings
Fold smoothly and slowly
As you and your babies
With satisfied stomachs
Snuggle up in a circular nest.
You sing them a soothing lullaby
As their eyes steal closed.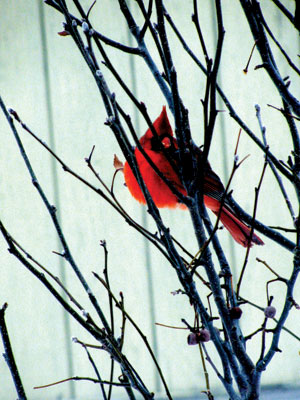 © Trent M., Centerville, IA