ADDICT
March 7, 2017
Short hair over a cold heart,
Have you seen her falling apart?
Long sleeves covering pale skin,
She thinks: I can't go through this hell again.
Chapped lips echoing at an empty stomach,
It was so much more than just a plummet.
She gave excuse after excuse, spit lie after lie,
It was that day when she made her decision:
If I can't be skinny I might as well just die.
Long drags sooth shivering lungs,
They asked: "just smoke one?"
Tried to say no at first, then mumbled to herself:
"What could be worse?"
She let it hang between her teeth,
Then welcomed death without any grief.
They said the first hit felt more than nice, and let me tell you… they were right.
Funny, It was only suppose to be for one night,
But instead she found her vice.

Long days where judgement displays,
Can you honestly say: I would never walk away?
Channels of pink are unsealed,
Rivers of red now revealed.
As her esteem starts to cave,
Silently she is screaming: I need to be saved!
Soon her body will be white like a ghost.
If only society realized,
It's our insecurities that destruct us the most.

Big swigs held with trembling hands,
Did you know she had a plan?
The bottle shatters once it touches the floor,
She just want to be appreciated more.
Tired of a heart so sore, I've never seen perfection so lost before.
If only we understood we already know the cure,
Then maybe we wouldn't be forced to forget her.
Drunk on sadness that night she prayed, "Lord please tell me:
Why we're all addicted to something that takes the pain away?"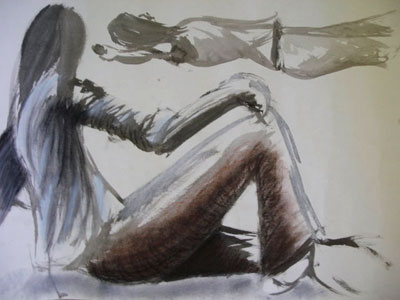 © Carollynn G., Hawthorne, NY