Neglected
March 7, 2017
There was once a man, he was very poor, lived on the streets in New York, nibbling a small piece of raw pork.
He never really fell ignored by this nation, hoping he would not faced constant alienation, when the first stranger approached him.
The first person walked by, and in a blink of an eye,
He got his bucket and said hi.
Asked for money and some change, making the stranger feel deranged.  But the stranger felt danger,  collected his book, and walked away giving him a mean, stone cold look.
The man felt so confused, he felt the he was living in a allusion.
He also felt so sad that the stranger had such a cold heart.
He wished his life could restart.
He would've been more smart.
He was in a deep pool of sadness,
In the heat of the madness.
Wished he could command people to understand his pain, the psychological effect on his brain,  his suffering, his recovering.
Wished people were more empathetic, wished people were more sympathetic, wished people were more apathetic.
Another poor resident stared at him, his eyes screaming that he was apologetic.
The poor resident that camped alongside him, looked at his bucket. There was nothing that he collected.
He shared the feeling of what it is like to be neglected.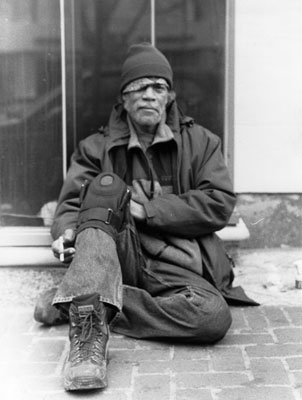 © Marie D., McLean, VA