The Dying Star
February 15, 2017
The people with the sun in the eyes told me to believe.
They said let go, and let him take your leave.
My mind young and busy, gave easily in.
But no matter where I turned, no one cared to win.
They stared at the sun, but not for what it was,
They accepted his answer of simply: because.
They limited their world, and tried to limit me.
Fleeting from their daydream, I saw past their fallacy.
I looked a little deeper, and saw all the stars,
Which were not souls, but the basis of untold reservoirs.
They didn't know who the stars were, and chose not to find it odd,
They never traveled there, and neither did their god.
They didn't really have stars in their eyes, just the false hopes of a lifetime.
Scared of themselves, they looked at something bigger, an easier lifeline.
They said it was the only truth, because their truth said so.
I turned away and peered past their star, to the cosmic meadow.
They remain blissfully ignorant, looking at me awed,
But I know the sad truth, and can't believe in their god.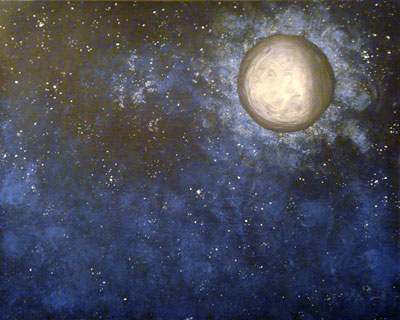 © Allison H., Vancouver, WA