The Summer I was Twelve
February 18, 2017
With the quiet hum of cicadas waking us,
we rose with drowsy whispers and half-closed eyes
to the smell of fresh cut grass
and the warm blanket of sunlight
peeping through the cracked window.
Enveloped by shadowy trees,
we dashed with bare feet and sun bleached hair
between thick roots and splayed leaves that would interrupt
the thin dirt path
that we knew led to nowhere,
but it never stopped surprising us.
Small giggles occasionally escaped our lips
and eyes lit up with mischief,
as the small, beaten radio played
the vanilla hits of Taylor Swift on a loop,
and our toes gently grazed the cool surface of the
endless blue pool,
overcrowded with bright tubes and smiling faces;
The sun beat down on rainbow popsicles,
that lazily melted on our sunburnt arms
as you reminded me that Pinky swears were sacred
before exclaiming dramatically that Max was your new crush
and that John was old news.
On special days,
with cloudless skies and heat rising off of roads in waves,
we would pack our tan minivan and drive until we caught a glimpse of
rippling dunes and water as reflective as crystal;
a place where the waves always crashed and the
sun never seemed to set,
Displaying an array of colors and textures where
the smell of salt water never quite left our hair.
And only when the moon shone lively in the sky,
With fingers sticky from gooey marshmallows and clothes smelling like smoke
would we retire to our cool, air conditioned houses.
And as the quiet chirps of crickets continued in encore outside,
We fell asleep wishing that the summer would never end.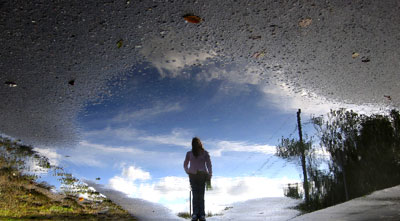 © Daniel H., Oak Bluffs, MA