That Night
February 10, 2017
That night was dark and cold.
That night was magical.
That night was unlike anything we'd done before.
That night we knew would be remembered.
We listened as the wind blew through our ears, silencing the light music.
We watched as our breaths swirled around us like smoke,
We saw how the rain drizzled down, whipping in the light wind.
We felt our friendship grow larger than ever before.
It was near Christmas.
Lamp posts and multi-colored lights lit the damp road.
I yelled hello to near-by neighbors, but they neglected to reply.
We laughed it off, knowing they wouldn't.
We were barefoot.
Deep, dark puddles had soaked our socks and shoes.
The road was wet and so, so cold,
But it didn't bother us after our feet grew numb.
We walked down the double yellow lines,
Laughing loudly at the other.
We spoke so freely, our hopes and dreams spilling into the crisp air.
Our bodies vibrated with happiness.
Although the battery was low, music blared from my phone.
We had different tastes and he played songs I'd never heard,
Singing along loudly to them.
I looked away smiling and decided to dance.
It was special.
It was just the two of us.
That night,
That night we knew would be remembered.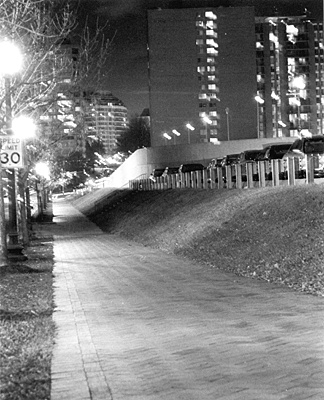 © Alicia S., Bethesda, MD