The Six Of Us
February 10, 2017
No words to say
What we are together,
No need to ask,
Whether we are forever.
Story of how small this world could be.
Story of how one meeting could
Start the story of the six of us.
1. The six of us, starting with me.
Too happy to be sorry 'bout you,
Too jolly to be sad about you.
The way i see is the way i live.
Nothing more 'cause its just me.
2. Comes by my side, a free token of rare.
The friend of every, the smile of every.
Bestie by core, amazes you more n more.
Always there to pick you at the edge of your door.
Eats like a dog loosed from chain,
Being serious amidst him is in vain.
Give him a secret, he keeps it till the end.
For every guy's screw-up, he's there to mend.
But ther's something behind his mask.
Something rotten, something vast.
Ask him that, and topic does change.
Like a chameleon from green to orange.
Food & hand he never says no to.
He's the guy to whom, in ur sorrows, you go to.
3. Next comes the girl, just like me.
Happy-go-lucky, very very sucky.
Partener to do all crazy things with,
Never minds to say fu*k, crap or s***.
Such a ladish gal, such a dambish girl.
A terrible date, yet the best girl.
Girls say she has gender-glitch.
But I say she's the girl, and they are the b****.

4. Every hive has its queen, every forts have their kings.
The one whom I'm talkin 'bout, consists both these things.
She makes the law around,
She keeps everyone on the ground.
A little exaggerated it sounds,
But she has the words costing pounds.
The best sister you could find,
One who is always bold yet kind.
Never say she bullies you,
'Cause all she does is maintain you.

5. A silent bomb, is what i can call him at most.
Talk to him, and in his silence you're lost.
His actions does speak louder than his word.
Don't take him granted, he ain't one of the nerds.
His face may be placid, like a stone.
But he's a human not a drone.
A friend like no other.
Keep talking and yet he asks "further?"
Expressing is mere, grasping is extreme.
Don't stop talking 'cause yes he's listening.

6. Every gang has a cool girl.
A fashion-bug, an art lover.
This is a typical one,
A great artist and a fashioneer.
Has got her hair colored, has got her pants torn.
She has history of every trend we have worn.
A chubby little panda is what we call her.
Reasonable 'cause sleep is dearest to her.

They say you need to be seven, to be a rainbow.
They say you need to be seven to be the wondrous.
But we made a deal on being both of it,
By being just the six of us.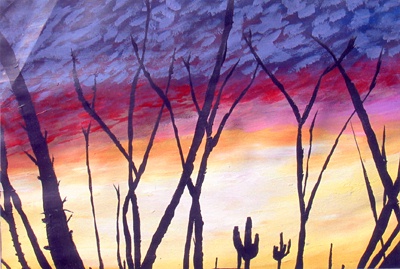 © Kassia C., Phoenix, AZ