To the one that keeps her balance
January 23, 2017
To my little sister Leila,
growing up is like teetering on the edge of a cliff,
you have to carry a balanced mind, body and soul,
in order to not fall into the dark abyss.
Your feet might slip and crumble rocks,
and you might only be hanging on by your polished fingertips.

Leila,
I see that you're changing,
shedding old snake skin,
liberating doves from a cage.
Everyone grows up as time goes on,
but you're different.
You have a different mind and different experiences,
your mind creates new colors never seen before,
your heart pumps blood throughout your body,
just like everyone else.
But your soul is full of gentle kindness and loyalty,
not like anyone else's.

Leila,
different is the weed that sprouts a purple flower
or a friendship between a cotton tail deer and a labrador.
Different is a necessity because
humans conform
humans judge
humans lie.
Don't let yourself be pulled into the current of conformity,
don't let the verdict of the judge imprison you for life,
and don't be blown away by the brimming bag of wind.
Training yourself to not fall victim to the insecurities of others takes time,
it will never be a simple task.
Leila,
our bodies and minds evolve slowly like the human race.
We know that times are changing but it is never fully noticed until
the finished product is revealed. 
Your finished product won't be recognized
until you're laying on your back,
taking your very last breathe,
reflecting on the journey you took.
Leila,
some days you will ask if it's worth it,
some days you won't like a thing about yourself,
some days the beauty of life will be hidden beneath a thick sheet of cement. 
You are allowed to be upset and angry,
they are emotions.
Emotions are gems,
few are polished and presented to the world,
many you keep buried under the dirt.
Not shiny enough.
Not sharp enough.  
It seems that they aren't worth showing off,  
but that's how you know that you're alive.
It's how you know that your heart isn't the only thing keeping
your blood flowing.
Leila,
just remember that when you don't love yourself,
I always will.
Remember that this world has so much to offer
for the people that choose to see all the beauty
and appreciate it.
Leila,
you have such a beautiful soul.
Never lose it.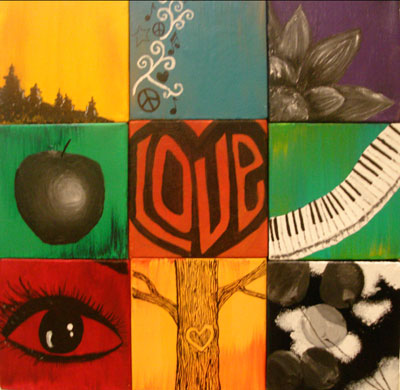 © Christina E., Henderson, NV