1st draft- thoughts
February 4, 2017
I'm just cold.
She- doesn't realize that I'm cold
She- doesn't realize that the words she says are stones,
Even a blanket is easy to break these bones
Doesn't matter what im trying to say
Cover it up, you can make it go away
No one wants to see what you feel
But everybody knows that it's real
They're just too busy locking up their pain
They can find it in the basement,
Or locked up in my room
Doesn't matter anyone can come in and see it soon
And it's late because
I'm wearing down the paper with these words
I'm wearing a spike-inlaid painless shirt
Now the pain is inside-
What's worse- this or fighting?-
No denying, others will try,
But no matter how the pull the rope
Won't be enough tonight
It won't be the end tonight
They end it so cold, and
Let's end the world
Because it's cold
It's cold, cold, cold and i see
The stones that people throw
To break it, make it go away
Today
My shaking hands and shaky eyes won't see,
See, the way out of the prison
There's a light under the door
Cause nobody should have to feel the pain anymore
It's been a time
And lately, I've been seeing lots of things in grey
What's five
Five times, five cars, five dollars
Only five years later,
I figured you could maybe use some motivation,
Your body wants a way to find some liberation
Not that, no, its much stronger than love,
The blood in your skin and the sky above
Will paint the days a crazy razor blade shade of red
I couldn't care less if i am living or dead
Right now
How come the news always looks so bad
Like they had
Nothing better
Hey, try this letter to my grandma
Who died a year ago,
Heaven knows
She's in a better place now,
Heaven knows
She knew you were afraid, you loser,
She knew you were
To say hello with your mouth with your mind with your hands
Hands hold hello say goodbye with a touch
You used to play pretend and you walked with her crutch
Don't try to test me
Touch me, best me
You know if i get real then i get messy
Some things are best to be
Left behind
Sometimes remembered,
But best set aside
For when you need something just to hold on to
If I could give you that, then i could die happy
Just to give you a light
And a reason to fight
It's not right the way you cry
Every night
Every time the light goes out
And your walls can go away for once
In your lifetime of lies
That you ever never thought
Would end up like this.
I'm just cold.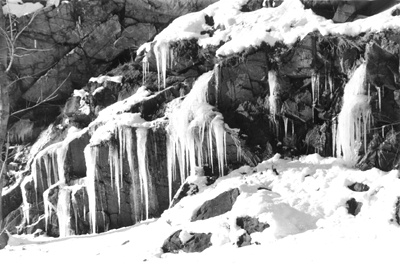 © Steve S., Marblehead, MA