The Breakfast Musings
November 29, 2016
Hot mugs of coffee
and a conversation, for two.
Oh, how I wish I could share this pancake,
and all my new whispers with you.
This sugared oatmeal
 exactly like the memories that we made,
Both licked clean with no old trace
The first by me and the next by fate.
The fresh creamy butter
On this soft slice of bread,
spreads so smoothly immitating the nature
of your promises made and  sweet lies said.
This scrambled egg, so very messy
and spicy tasting like fire
 Just like our love to the world
Just like all our untouched dreams and desires
Today is breakfast so sumptuous
reminds me of every little thing we felt and did.
How like the sugar in my coffee
in vivid bitterness of life we hid
All the things on this table
Reminded me of how time flew,
I wonder why back then we burnt it all,
I wonder what made everything so blue?
And then it all hit me up again,
like the omlet still frying on the pan.
That like the steam over this cup of tea,
Away from love's warmth you ran.
   I realize it was all a joke
   Just a delicious lie to you,
   But nevermind, I'll just enjoy my breakfast
   and slurp the undrunk coffee for two.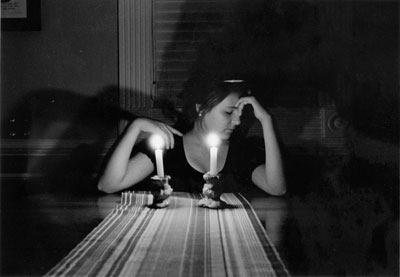 © Eleanor K., Bethesda, MD