Thought Cycle
November 22, 2016
Let me stop and think.
Wait.
I've been doing that for weeks now.
Questions swarming my thoughts.
Who am I?
What am I doing?
Where am I going?
Do I even exist?
Okay, take a deep breath.
Relax.
Okay, now think again.
Why am I here?
Am I happy?
Am I sad?
Am I Sad?
Wow.
That's a loaded question.
I don't know if you call this feeling sadness.
It's something else, something deeper.
Depression.
Perhaps the word I'm looking for.
Wait, maybe something else.
Mourning.
Yeah, that made my heart flicker.
I'm mourning.
I'm not mourning the death of a person.
I'm mourning the death of my hope in life.
I just don't have hope anymore.
STOP! Breath. Breath. Breath. Clear my mind.
I can't.
I'm no longer functioning.
Nothing is okay anymore.
Relax.
Just stop thinking.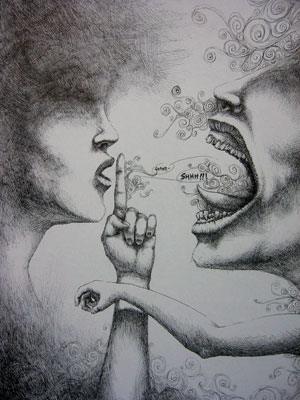 © Andrew M., Apple Valley, MN