Ode to Friendships
November 13, 2016
It was the most beautiful dream
of reality.
Where the ocean was a heart throbbing
green grassed blue,
clear but no clear cut.

Where each person was padlocked-
a case to crack,
and The Key was awkward and
innocent on my tongue.

I learned colors.
Ate them, bled them, read them,
now blending black masses in my brain,
clotting and trudging in my day-to-day veins.

I've asked all my whys but feel too young to
conquer the the lies, I learned
not how but why
things must be earned.

I had googly-eyed-macaroni-paper-angel friendships,
and a family that goggled, shuffled, pranced down foreign streets
with the ears, eyes, and hearts of clock-freezing four year olds.

I've learned sixteen times how to pack a lifeline.
I've written twenty love letters,
Cried five times
and never known which direction was home.
It's been two weeks since my hair has seen a comb.

We began with a long winded, short stepped adventure
With distance not dangling from our feet but our minds.
It began and ended with a silky rich dream,
chasing, no-
pacing
with reality.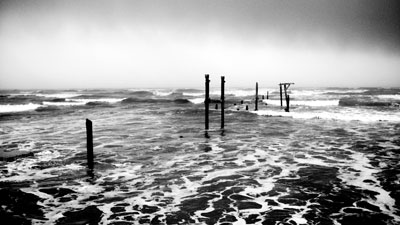 © Harrison L., Ruston, LA