The Eyes
November 10, 2016
All eyes on me, once again.
Walking through the crowded halls..
How many of them?
A few hundred?
Thousand?
And all eyes are on me.

The giggling and staring paralyzes me
I want to run, hide, get away from all these eyes
The exact definition of being prisoner of your own mind

I feel like an outsider, looking in
It's an everyday battle
That seems as though I'll never win

I do my best to stay calm, like all the doctors say
"Count to 10"
"Take your meds"
Or my favorite, "just relax"

Well you know what i want say to that?
Screw you.

His eyes, her eyes…

I feel as though I'm parachuting down a black hole
Im falling slowly, but at a steady pace..
Oh what i wouldnt give to hide my face

How much time has gone by?
Minutes?
Hours?
And still
All eyes are on me

It's like a deafening sound but no sound at all
I can't decipher one from the other
"It's hereditary" the doctors say, you can thank your mother

My focus is unclear
But i know now what i must do

Swallow a one of these pills
Maybe even two

I dont enjoy the feeling they give me
More of a numbness than an antidote

Ive forgotten where im going
"Move it ! Slow poke"

I turn to see one of my friends
He didnt even realize it was me
I'm so out of it now
I start to breathe heavily

My breaths are getting shorter and faster
Here it comes..

Tears fall down my face
As the crowd of teenagers fades away
It all hits me now
The eyes
The doctors words to the wise
My grades
My boyfriend
My room isnt the color i want it
And my hair is always frizzy
Im too fat to look good in my uniform
Oh and i still cant breathe
I lose control over my limbs and run to my safe haven
Where i begin to kick and scream
My face is red
My throat is dry
….why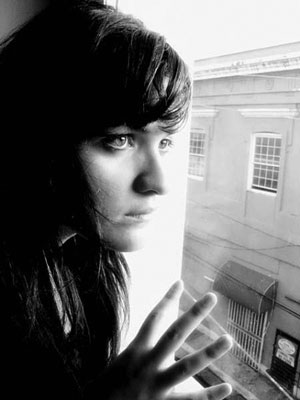 © Eveliz V., Bayamon, Puerto Rico