House on the Corner of Hamilton St.
November 15, 2016
I've lived in the same house for all 17 years of my life.
The same two story white house on the corner of Hamilton street.
A lot has changed in the 17 years I've been around my neighborhood.
As a child it was me, my parents, and my two black labs, Homer and Spooky.
My room was a small blue room next to my parents room upstairs.
In the front yard were two huge trees with dark brown bark, and dark green leaves,
And a couple round bushes boarded the sides of the front door.
We didn't really have a backyard because it contained a ginormous above ground pool taking up the entire backyard.

To the right of my house there was nothing but a road, dirt field, and hills. To the left is the rest of Hamilton street, houses upon houses, side by side.
As the years went on they started building houses where the dirt field and hills were.
Finally in first grade new people moved into the little blue house to the left, and to the new big brown house to the right.
I was two years older than the kids who moved in, but we all became great friends.

What has stayed the same in the twelve years since, is that I live in the same two story white house on the corner of Hamilton street with my parents, and my neighbours to the right and left of me still live the the right and left of me.

What's changed is that I now have a seven year old sister, and a new black lab named Kosmo.
There is only one huge tree in the front yard,
we don't have a ginormous pool in our backyard,
there are three new culsac roads where the dirt fields and hills were,
and both my neighbors have siblings that are friends with my sister.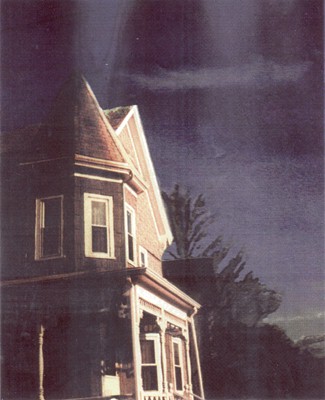 © Elyse G., Wilmington, MA