When You Aren't You Anymore
November 16, 2016
Trapped in place.
Where maybe I should,
Or shouldn't have been.
Where only numbness can be felt,
A numbness that felt like being stabbed,
By a million little needles.
Not stabbed in the heart,
cause that would be too easy.
Too easy to let someone out,
Too easy to let them be free,
He was like coming up for fresh air
After slowly being drowned for 2 years.
After having every nerve picked layer by layer,
slowly,
calmly,
patiently.
Trapped
Trapped in a cell in the middle of the woods.
Where I was like a prisoner in my own home.
And every time I would get free
the long viney prickly branches would pull me back.
Caress her with the soft touch of his hand.
As if a feather were being gently, slowly pulled across my face.
So softly I soon forget everything that just happened.
In no time the trees were pulling me back in with their long strong arms.
In no time I was back to the tears,
Back to the fear
That maybe he'll do what he promised he wouldn't.
But I was blinded by his sweet, deep smell of cinnamon
I was deafened by the silence tone ringing in the silent room.
Deprived of all the bright everyday colors,
The sight of the bright yellow sun,
of the baby blue sky with just a few bright white clouds.
In the end he was like drinking a tall, ice cold glass of bitter sweet lemonade.
So sour you want to stop, but so sweet you can't put the glass down.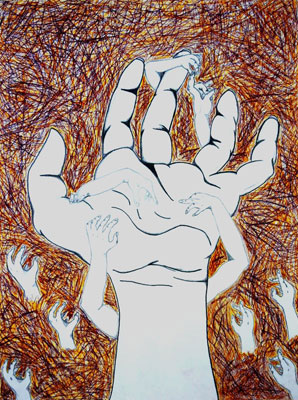 © Ariana R., New Orleans, LA