stinging love
November 11, 2016
You are a fire,
Burning, beamingly under somber winter nights.
With juicy orange flames devouring my wooden heart,*
Voraciously, redundantly, leaving ashes all scattered apart.
I remember when the spark was first born,
But now it's a forest fire and it got me torn.
At first I thought it would only be a cigarette break
But it's a dream from which I can't wake.
Violent flares caress my blistering skin,*
Embracing every inch of me as if was dripping kerosene.
I feel you burning hard inside my chest,
This fire inside won't let me rest.
It keeps me warm and clement, away from the bitter cold,
I'm a fool, I should've known I would get burnt.
Shades of steaming gold,
Tones of igneous red.
Linger like autumn leafs inside my steaming head,
It burns and flickers as I cogitate in bed.
It brings me down in a million pieces,
Like a wooden rooftop, to the ground it ceases.
I'm gasoline, it spreads so electrically,
Flaming through my veins, consuming every cell of my silhouette.
I gasp for air, but I can't breathe,
It is too late, it's emerging all over me.
How can I emancipate from this fire?
How can I placate this desire?
I'd need an entire sea to end this,
Or six years of pouring rain without a miss.
The salty rivers below my almond-shaped eyes,
Have already shed a thousand helpless cries,
And yet not a single flame has turned into smoke.
One day i'll end up in ashes, one day to the ground i'll choke.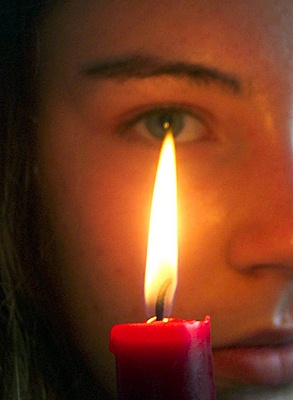 © Elise S., Clarksville, MD