The Bounce Back
November 9, 2016
Game over.
Another debacle, the second in a row.
One more 15 minute game,
wishing to go out with high heads, not disappointment..

We almost had no optimism for the next game,
Until the man administrating this whole camp came by, Denzel Valentine.
He sat by my side, saying how much he admires me.
That made me want to endeavor twice as hard.
After a discussion about basketball shoes and his life in the NBA,
I was ready to go play some basketball.

The whistle blew to commence play,
I got the rebound and scored immediately
After that nothing went good for us, as they scored 5 to put us down.
4 minutes left, and we had the ball.
This was it, the time to put everything on the line.
I could smell the victory,
even though it may be further than I think.

They delivered it to me,
And I drained it for 3 from behind the arc.
Still trailing by one,
and it didn't help that they scored again.
Now down by four.
I was hit inside cutting to the basket with a pass that was so crisp,
It sliced through the air like a rocket.
I shot a reverse lay up that was so c-r-a-z-y,
I didn't even think I would make it.

Sweat dripping. Adrenaline rising. Hopes crumbling…
For them.
I sent a flashy pass to our lengthy center.
We seized the lead,
And maybe even the game if we executed.
I drifted like a race car, away from the guard,
And jabbed the ball loose.
As we ran down the clock,
I grasped the thought that we came back from all of that, and got a win.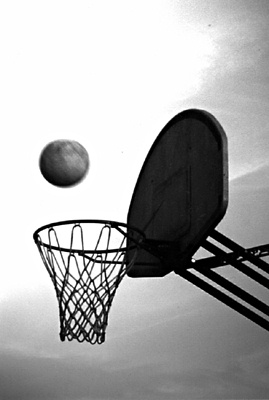 © Cassie H., Carmi, IL