The Companion
November 11, 2016
I wanted to show you a soldier.
He is fighting a war, a war for his country
And a war against himself.

I wanted you to see the fear in his face,
while he held his companion
that he found wounded in the woods,
close to his chest giving it warmth and protection.

His companion is known for being
'man's first friend'.
His companion never was just a friend.
His companion gave him
happiness, courage and the desire to live
even during the hard times of the war. 

I wanted you to see his messy hair, unshaved face
  his wounded hands and dirty clothes.
Along with his and his companions face immersed in exhaustion.
And how the little  beams of sunlight was striking onto his face,
which made him unable to see his surroundings.

He could hear others preparing their weapons for the next war.
I wanted you to see how he call forth all his courage,
and decided not to let down his companion or himself.

He didn't want to go through this torture  again
but he did it anyways,
even when he didn't know if he would see the daylight tomorrow. 

I wanted you to see a kind human being,
not a courageous soldier.
I wanted you to see them together
him and his companion
showing the kind and soft face of a war.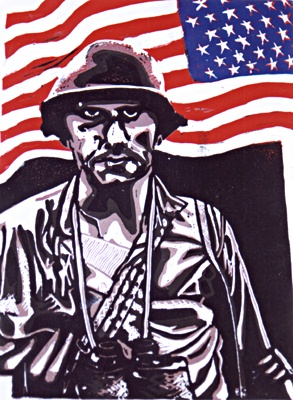 © Troy W., Kannapolis, NC