The Audacity
October 18, 2016
What did you listen to as a child?
Did you listen to the fairytales Daddy read to you?
Did you ever ask him what 'color' Cinderella was,
Or express your feelings at the audacity of the prince kissing Snow White without her consent?
From a young age, we are taught to seek the hero,
One who will fight for justice,
One who will come and pave the way,
Risking the other side's malice.
But what about the other side,
Don't they have a hero too?
One who believes that he is doing fine,
Upon silver wings he flew.
We believe so often that there is a side of pure good,
When all that exists is the different morals,
When we actually see that it should,
Be a war against religion and culture in which we quarrel.
If we eliminated religion and culture would we then be happy?
If the names of our countries were cut down to simply numbers?
Would we be glad to eliminate 'Mammy' and 'Pappy'
So as not to offend the orphans and the foster children who never peacefully slumber.
If those who worked their best never earned what they deserved,
If no one could reap what they had sown,
If everyone lived in the same white home would we be perturbed?
Would we stand for a world without injustice yet was filled with the injustice of those who had not sown after they had flown?
If we all wore the same clothes,
So as not to appall those around,
So that we would all feel as though we were all one of 'those',
Would we be happy without the self-expression which we had downed?
Would we be happy if,
Our world stayed the same?
Would we be happy if we had to lift,
The veil covering our disdain?
The only problem here,
Is that we want what we don't have,
We want a world without labels,
A world without sin.
But can't we see the beauty,
In the labels before us,
The ones that shape us and mold us,
The ones that teach us and love us.
The 'Mommy' and 'Daddy',
They're labels as well,
Just like the 'sister' and 'brother',
And 'baby sister' too.
We hear the 'black',
And the 'white',
And the 'dumb blondes',
We hear all the good and the bad things going on.
But we can't deny what's going on inside,
Just like all the truth, all the labels of love,
There's the lies that we utter,
It's part of our tongue.
But without all those labels, nothing would be left.
Without the 'black' and the 'white',
Colors would be gone too,
We'd be left with nothing to do.
Without the labels,
We all would fade,
We all would become a blackened slate,
Chalk fading away.
Who we were would fade away,
There would be no one,
There would be something,
But inside there would be no one and nothing.
Maybe that's why we try to get rid of them,
Because we want to rid ourselves of the lies,
But there will always be lies,
As long as there is motivation behind them.
Without the truth,
There would be no lie,
If we eliminated the lie,
What is the truth?
If we eliminated both,
We would simply be a casing,
Tongues flapping,
Minds muttering,
Souls dropping,
Differences fading,
Bodies straying,
Feet wandering,
Lost bodies,
Lost souls,
Lost minds,
Lost children,
Lost parents,
Lost livelihood,
Lost everything.
Lost nothing.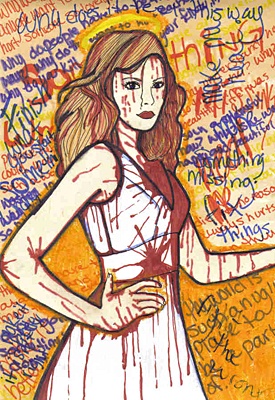 © Sara D., Aiken, SC