FROM GOOD, FROM BAD, FROM WORSE
September 29, 2016
I'm from our townhouse with the
    Climbing tree outside.
    We ran there when the shouting
    Got too loud.
    From constant trips from
    House to house, trying to choose a home.
    From making the most of what we have,
because we don't have much,
but love is all we need.
I'm from the flashing lights of Pinball Pete's arcade,
    Playing the exciting games, escaping.
    From Blimpy Burger, their greasy fries;
    I'd burn my tongue, too eager to eat.
I'm from bike rides to Buhr Pool, everyday,
    the strawberry shortcake ice cream bars;
    They sweetened my sunkissed smile.
From Honey Creek Community School,
    The Pheonix's, we try hard and never give up.
    I'm from Beth, Barbara, Mary, Johnny, Teresa, Cindy, Liz, Joe and John.
    The uniqueness of that school that bled into my skin and stayed permanent.
I'm from pirate birthday parties in the backyard,
    adventures on that playground.
I'm from our annual halloween party, trading candy like pros. 
I'm from countless number of pets;
    companions, friends, siblings.
I am from that talk before bedtime in my dalmatian pajamas,
    That heart-breaking phone call late at night, right after our carefree TV time.
    That morning… that morning that changed my life forever. That morning where
    I started to pretend, that morning where I couldn't cover my ears hard enough,
    And unspeakable, stiff and blue.
I am from making up games, playing pretend,
running off where no one could find us, but we knew our way back.
I am from a broken home, home, home and home.  I am from struggle and loss.  I am from getting pushed down too many times. But I am from getting back up. I am from helping others get back up.  From driving forward with the occasional look back out the rear window.  I am from not knowing the word surrender.
    I am from my mom and dad.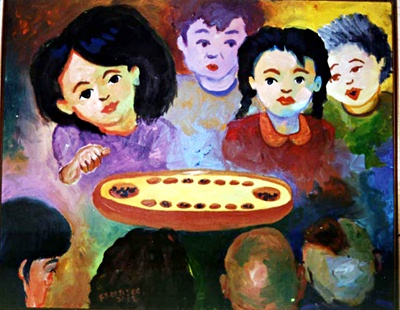 © Fransisca A., Surabaya, Indonesia