When I Look Up
September 28, 2016
Sometimes it's easier just to observe the world than it is to actually be in it. So:
I see all the people.
I see them hurry along.
I see them struggle as I do.
I see that they have lives and parents and children. People who love them and people that they love too, but I'll never be anything more to them than a whisper at the edge of the scene. So quiet in the white noise of their day.
It's why I forgive the lady at the cash register at the store with the dark under her eyes who snaps at me and I forgive the man who is running his hands through his hair with his shirt untucked who knocks my backpack sideways as he storms by and I forgive the woman who pushes past me in line and takes my place because I can see the red in her eyes and the stains on her cheeks that tell me she's just been crying.
That's why I think being an adult is so scary because your sort of alone and its harder to make friends when you're so swallowed up in your own ambitions, dreams, and memories that you've collected for all of your life and I'm swallowed up in mine.
But sometimes, when I look up and I see all the people, I remind myself to forgive them when they misstep and it makes me feel so strange about my life because I know that everyone else has one just as ornate.
That is what I see when I look up, and maybe you'll see me and we'll see each other just that once, a passing glance as you hurry along and take me for what I really am:
I'm a girl walking down the street in a sundress in spring, who stops to kneel and read the historical markers and pull the leaves from branches as she wanders on.
I'm a girl wrapped up tight in a heavy fur coat in winter while it snows at the coffee shop, I sit in the back and smile with rosy cheeks as I sip my usual latte.
I'm a girl with her father in summer who kneels in the graveyard putting daises down on the headstone, shedding tears for the big brother she'd never know.
I'm a girl in the fall who runs down the sidewalk with her dog running beside her as the wind blows and leaves roll into her path and she smiles.
Eyes that watch the world I am this and nothing more.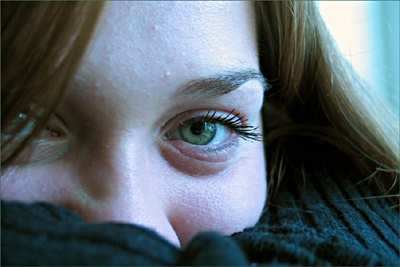 © Andrew M., Belleville, ON, Canada