Winter
September 27, 2016
Outside since birds have gone south,
the thick glistening white cloak hides the frostbitten ground.
Crystals of unique patterns and sizes form from bushels of sub-zero ice clouds.
The whipping wind comes in the most randomest ways,
biting your skin with needle like blades.
Icicles of all lengths hang like frozen shards from past shattered swords,
forming until thousands upon thousands make a wintery ice hoard.
Breaths from unknown creatures, spiral and sparkle like diamonds reflecting all the winters day features.
The cold still  night is darkened from hidden moon rays.
Gentle specks of soft snowflakes lay down on the thick blanket of others until the next day.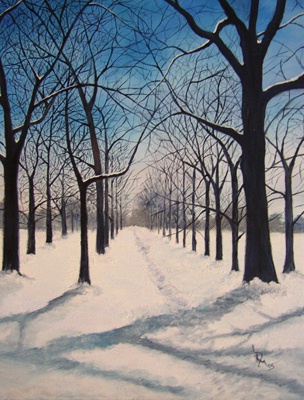 © Lauren M., Scotch Plains, NJ