Hemingway's Dilemma
September 18, 2016
Echoed footsteps in vacant streets,
Distant voices near cheerless allies.
Insignificant laughter to fill a void,
Improvised music for a roaring public.
Drinks for two, still waiting for you,
Sitting quietly perplexed by mankind,
Knowing I will be alone tonight.
Listening for the faintest voice,
Longing for the slightest breath.
Waiting for inspiration
Yearning for a muse
As silent as night,
As desperate as a prayer,
This world in which I live in.
One made of bourbon, and single malt whisky.
A planet of confusion and sorrow,
With only my rugged piano to lean on.
The universe of a writer consumed by heartache,
The realm of a man devoured by withdrawal.
Yet I am no wordsmith nor am I miserable,
So what excuse do I have?
Heartbreak, agony, burden, maybe fear, might satisfy these people,
Those people who only look to judge my existence,
Question my sadness, and demand an explanation.
One day they will realize, I am not who they think,
I am not suited for this society.
Perhaps that day they will relieve me of my loneliness.
Walking away, my work unfinished.
Pen dropped, canvas wet,
Alone in the open.
As I walk in solitude,
In the moonlit sky,
The breeze comes in,
I realize that I am nothing compared to the world beyond me.
Only a small particle of a human race,
Only a tiny fragment of a vast universe.
I leave my home, unimportant and forgotten,
Unknown forevermore… Only to realize my solitude was all my fault.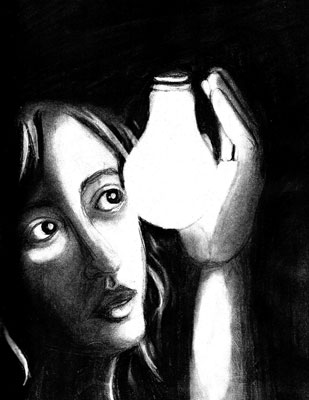 © Jessica P., Bethel Park, PA