Where I'm From
September 16, 2016
I'm from Nashotah, Wisconsin on Portside Drive,
from waving to neighbors I've known since I turned five.
I'm from watching the evergreen bushes grow,
from glancing out my window, and longing to play in falling snow.
I'm from a lengthy, gray driveway my dad refused to pave,
from memory boxes overflowing with keychains, coins, and curio I loved to save.
I'm from rainy days when driveway ditches brimmed with sharks,
from summer days Sophie and I spent in Dickten Park.
I'm from Christmas cards my family would always send,
from vacations to Eagle River I wished would not end.

I'm from family dinner on Sunday night,
from listening to Grandpa say grace in delight.
I'm from biking up hills as immense as mountains,
from watching the birds at Grandma's bird bath fountain.
I'm from "xoxox" signing off Mom's text,
from constantly preparing for what will come next.
I'm from piano, clarinet, voice, and guitar,
from singing along to pop radio stations as my dad drove the car.
I'm from watching my dad as he played on the Summerfest stage,
from avoiding putting my thoughts in a cage.
I am from those moments–
a person in a neighborhood, on a street–
that is packed with friendly people to meet.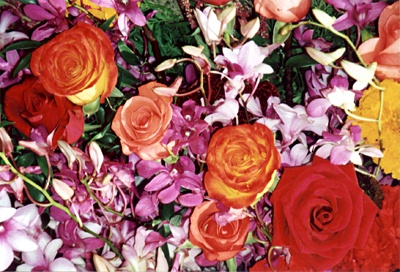 © Stacey L., New City, NY