Everlasting
September 20, 2016
Cry me a river.
And name it Everlasting.
For your tears will fall
To water the seeds of our love.
That will grow along the banks
Of your saltwater stream,
Into beautiful pines,
Who will not forget their creator.
And they will softly
Whisper the tales of our love.
And the wind will carry
Their voices and make them
Into joyous shouts.
And all the great oaks of the forest
Will swell with envy.
But in their crude imitations
They will be blinded
By pride and ignorance.
And the wind will continue
To beat against their bodies
Strong though they may be
They will remain unbending
And they will fall.
While our pines bend
Gracefully in the wind,
Letting it move them this way and that,
Making the wind their puppet master.
He pushes them to their limits,
Bending them so far
That their needles
Prick the calm waters of our river.
But they obey,
Ever whispering their tales.
The wind smiles
And weaves their words
Into a magnificent tapestry.
He drapes his literary needlework 
over the world,
Boasting its beauty to the small globe.
And the world will stand
In awe of every single strand,
Each with it's own divine purpose.
And at the source,
Humble and quiet,
Everlasting flows still,
True to its name.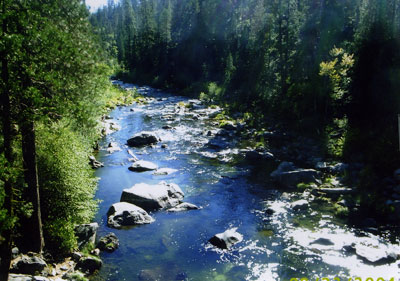 © Laycie C., Stockton, CA