Where I'm From
September 16, 2016
I am from dizzying twirls around my uncle's shoulders,
swirling in circles like the wings of a helicopter.
I'm from the smell of freshly baked cookies, but                               "Don't touch them! They have to cool!"
I am from layers of blankets, shelter from the                         devastatingly ice cold house—                                                   beggars can't be choosers, take it or leave it, and just put on a sweater!
I stem from Ashleigh conjuring trouble in a secretive fashion while Jaybird makes risky jokes, the knot in my stomach tightening with laughter.
I come from Mom unpleasantly singing along to "Sweet Caroline" like a deaf voice impressionist (sing, sang, stunk!).
I am from Eggsy, Zelda and little Roxy guarding the new house like British foot guards while never ending Star Wars nerd-athons continue.
I'm from a spotless asymmetrically organized home,                           decorated with sparkling knick knacks.
I am from messy bedroom junk piles called Sarlaac, consuming items and spitting them out like Boba Fett surviving the republic's rescue breach.
I'm from fluffy soft pillows scavenged from a local mom-and-pop shop lining the couch as an invitation to "Netflix and cuddle."
I am the result of hikes through a covered trail, the oaks creaking and                waving with the blustering Wisconsin winds.
I am from dermatology with Ary and Playstation with Dev,
from "Hey Butthead!" and "Let's go, Ponga!"
I am from skipping middle school for Olive Garden adventures, "Don't I talk funny without my dentures?" and family is all you need.
I come from dizzying twirls around my goofy uncle's shoulders,
       from the smell of freshly baked chocolate chip cookies, and   I am a native of endless layers of hand stitched blankets…shelter from a devastatingly cold house.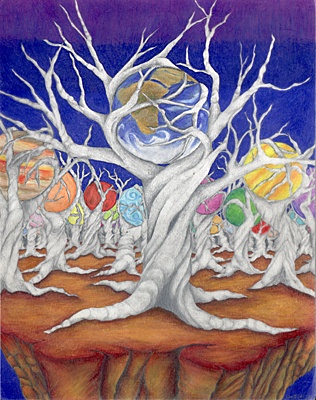 © Sara P., Lake Mary, FL