In My Thighs
September 9, 2016
In my thighs I carry the next generation
In my thighs are the stories of the strong,black, and independent women in my family. They supported their homes ,fought for theirs rights, and stood for nothing or no one who told them they cannot achieve something because of thier race, gender, or becuasue the highest grade they were allowed to reach was the 8th grade because "Women do not need brains they need to know how to be good wives."
In my thighs you can hear negro spirituals that got the women of my family through some rought ti,es. If you listen real closely you can hear the screams throughout the night of my mother,mothers,aunt,niece, or cousin, the most unprotected person in the world a colored woman. She is being forced, beated, or threatened to lay and let a man do his work because if you did not know " This is a mans world."
My thighs are wet from the tears of the young blacks girls who were told they are ugly because the sun loved them so much or because gravity is not strong enough to pull their hair down when they rock a fro.
In my thighs lie the birth certificates of little girls running home to their mothers because the name your father gave you when he took you out under the stars and showed you the only thing that is greater than you is being made fun of.
In my thick thunder thighs are the stars that led my ancestors to freedom, the stripes of a tiger to show i am a fighter, and dents to show I have been kicked but a I got back up. These thighs have the temperature to warm you when the world is just too cold.
Filled woth stories,songs,screams, and tears these are the thighs I will pass down to my daughter. These are her thighs, my thighs, and the thighs of the strong, black, and independent women in my family.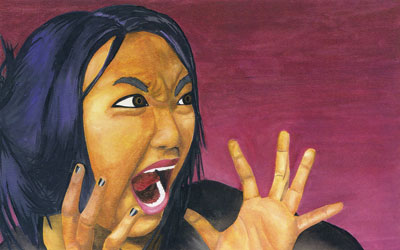 © Lauren S., Forest Hills, NY