Astray
September 7, 2016
it feels that i am blind.
blind to the world,
blind to myself,
blind.
as if i'm closing my eyes shut
from the world around me.
it's like playing hide and go seek,
without the seek,
because i don't want to see the world in front of me.
i want to hide and shrug away in the four walls of my cubicle.
the place that knows me.
not the me in the public,
not the one at gatherings,
but the me who weeps and worries about the little things.
the things that track my mind,
the thoughts that awake me at the crack of dawn.
the things that make me wonder am i doing things right?
am i living to expectations?
am i socially correct?
or am i going to be another kid who is looked upon as a reject.
These thoughts and things that play tricks on my mind,
are never right.
you see, i don't belong to a title or a clique.
i don't need to be told how pretty i am to feel worthy.
i don't need a boy on my arm to feel wanted.
i don't need these things to be me.
all i need is my eyes,
to help me see what i am and who i want to be.
what i want to be in this world.
but for right now i am clueless,
clueless without my eyes.
for I am clueless,
i am blind.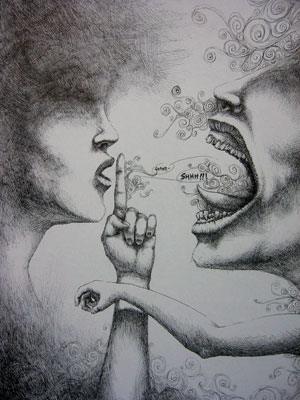 © Andrew M., Apple Valley, MN