Trees
August 1, 2016
     The trees outside are talking to me, whispering messages in my ear, as I stand at the window wondering why I'm here. They're saying, "Stay alive, my friend; live on through the fear." But the weight of breathing crushes me until I cannot hear. Oh, dear.
     I stand out on the roof, staring out at all the green. The leaves sound like the ocean, so I start to lean. I can't stop the thought from popping up—"What does this all mean?" I hold out my hands, innocent tools that became unclean. So it seems.
     The leaves outside are rustling; they create a sea. So I stretch my wings and jump right in; I am flying free. Those trees of mine stretch their limbs to create a canopy. They stop my fall, giving their all, a second chance for me. I see.
     The night crushes me, with its promise of impending doom. I gaze up at the night sky, and I see something through the gloom. "It's the light," trees whisper, "the light of the moon." And the light fills my veins, leaving no more room. Tomorrow is so soon.
     The trees outside are talking to me, whispering in my head. "It's okay," they say, "you are alive, so love, create, for you are not yet dead." So I push away the empty thoughts, the intense feeling of dread. I get up out of bed.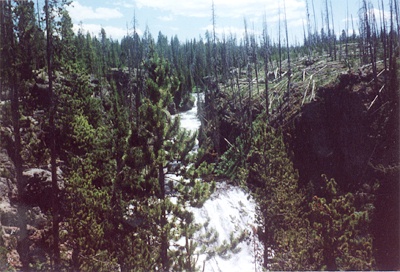 © Josh W., Peoria, AZ