Silent Tears
July 27, 2016
She raised a bloody hand
To tell her story.
But nobody
Ever called on her.

So she let out a piercing scream,
That nobody
Would ever hear.

Soon enough,
He stole her voice.
Kept it in a glass bottle
That had once held his heart.

She went to bed
With the black and blue
Wandering in her dreams,
With no wall
To keep them out.

She tried to escape his grasp.
His clutches.
But the harder she pulled
The tighter he held her
By the neck.

Day after day
Was built by pain
Until one day
She no longer felt it.

"They seemed to be happy together,
He seemed to love her,
With all of his heart."

And as she falls
Deeper and deeper into the ground,
More and more voices
Are stolen.

Someday,
We will all shout out,
And those who refuse to listen
Will be the ones silenced.

Until then,
The bruises,
The blood,
Shall forever remain.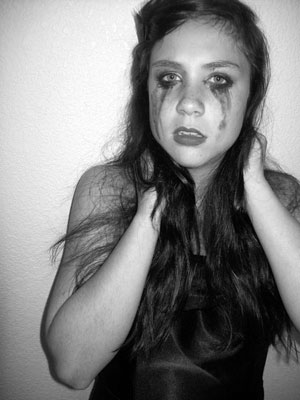 © Tiana D., Monument, CO