Lizzie
July 26, 2016
He had a girlfriend named Lizzie,
She was real pretty and wore her hair frizzy.
Very busy in the city.
They met each other because his momma was her nanny.
His mother and her father both agreed that they had to stop dating and that made them feel baddy.
They were in love,
So very happy.
Their relationship was short lived,
Because he was black and she was white.
If they planned to stay together they'd have to go up north and have a life.
This was a big deal.
Cause during this time,
Racism was deemed right.
Lizzie had a secret that was as dark as the night.
A wicked, twisted fantasy.
Her daddy was unhappy,
That the black boy was with his daughter.
He called her and called her from the basement.
He then followed the aroma of her fragrance,
To see the "n****" kissing her on the pavement.
He swallows them up as if they were water.
Locks them in a chamber,
And laughs while they holler.
He's the slayer,
Upset that she betrayed him.
Afraid that he might slay him.
Him,
Her boyfriend.
The one that she loves.
Sadness, because her father bathes in their blood.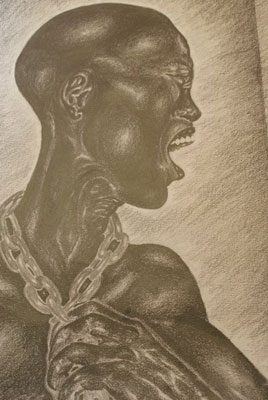 © Catherine M., Bronx, NY