Swings
July 20, 2016
The first time I sat on this swing
Was when I was young and free
And believed anything was possible. 
I'd sit back with a wide grin, 
Wind whooshing through my hair
As someone pushed me from behind,
Encouraging me all the way.
The next time I sat on the swing
Was when I was young and rebellious.
I was still young, 
But I thought I was so much older,
Bolder,
I took my first steps on my own,
And swung with no one behind me,
Relishing independence and new opportunity.
The next time I swung,
I swung with people beside me,
Laughing and smiling, 
Brimming with stories to be told,
And jokes to be made,
I learned about trust and friendship. 
This time, 
I see the swing from behind,
And it's my turn to do the pushing.
Holding her delicate hand in mine, 
I learn responsibility and unconditional love. 
Now, I am alone,
With no one behind or beside me.
The swing grinds to a halt,
And as I take my last breath, 
I smile for the last time. 
And now, I learn contentment.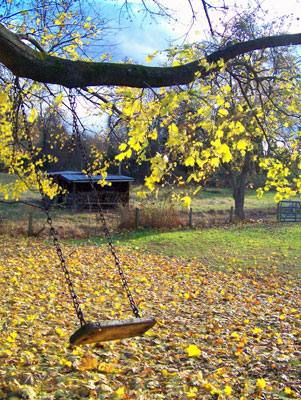 © Margaret G., Hillsborough, NJ