big...
July 20, 2016
     You concentrate.
     You focus.
     You think about everything in your life, the right and the wrong.
     Think bigger.
     You envision the land and the sea.
     You grasp all the people, and all of their problems.
     You think about everything, from you to the edge of the galaxy, and you're struck with absolute astonishment.
     Think bigger.
     You take in the universe, and you realize that it's infinite and forever.
     You realize that it moves an infinite amount of ways in an infinitely small amount of time, and you become scared.
     Think bigger.
     You think about the limit, and where it all ends.
     You think to the threshold of what you can perceive.
     You think to the edge of what you can fathom.
     Think bigger.
     You see past the verge.
     Past the brink of time and space.
     Past the fringe of all existence.
     You dust off a certain truth.
     You are a puff of smoke.
     A rat lost in the maze of perception.
     A deer frozen in the headlights of everything it sees, hears, and feels.
     And you're terrified.
     Think bigger.
     At the end of all existence is complete oblivion.
     At the moment you cease to exist, so will everything around you.
     And you're forever haunted by this thought.
     Think bigger.
     You come to understand something on the day of your death.
     You see another truth in the wake of your demise.
     In that last second, in that moment that stretches on for longer than you could ever imagine, in that last eternity that exists right before complete non-existence, you feel the mystery, the awe, the wonder, the happiness of everything crashing down on you all at once, and all of a sudden, it's hard to be scared.
     All of a sudden, you see the beauty in it all, and in blissful disbelief, you realize that there's so much to look forward to in the road ahead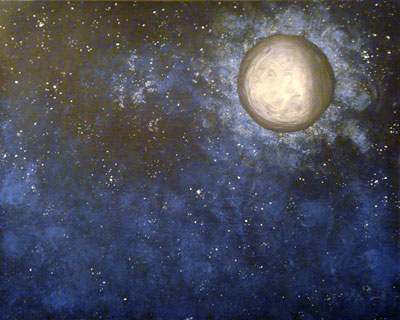 © Allison H., Vancouver, WA