Are you there? Or just observing?
July 13, 2016
it was just a glimpse
but I know what I saw
I saw the face of God and it was crying
in the tears I saw reflections of people
mother's holding folded flags
children shivering in the cold with starved bellies
animals trapped In cages clawing until their paws disengrate
I saw the face of God and it  
was weeping
the angels tried to comfort him
but he couldnt turn his gaze
he saw a little boy sniffling trying to take the syringe out of his mothers  
arm crying for her  to wake up
he saw the nations declare him as in their favor as they killed each other without discretion
I saw the face of God and 
it couldn't stop pouring
he looked motionless and terrified
as war machines crushed skulls
leaving only ashes
he stared as his children brutalized and  ravaged declaring their god as the  real one
let the food deplenish
let the water boil
let the sky fall
let mankind perish
let the earth be free
let this be Eden again
as long as we exist
  
peace will not
I saw the face of God and Its glare will never leave my tears reflection.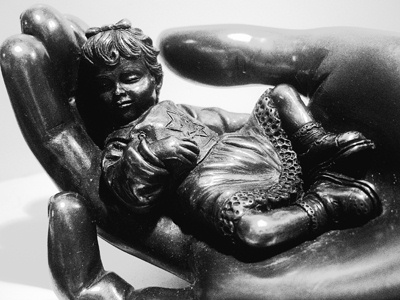 © Dat L., Worcester, MA