In Sickness and Instead of Health
July 6, 2016
As the last inkling of blackness was swallowed by the rising sun cascading off of her skin, all at once my heart leapt into my mouth and a shiver slithered down my spine. What a weird sensation, truly. Love. Like ingesting medicine, the cherry flavor of her lips was SUPPOSED to make it easier to swallow but instead it found me overwhelmed by its bitterness. The only sweet memory of its passing was left behind in her genuine intent. Her love. An emotion that for me betrayed logic and for her became a servile puppet with which she could tug at my heartstrings. 
When love came, it did so without warning. I did not get to pinch my nose. It engulfed me entirely. It eclipsed any and all of my defenses: the perfect infection. Its symptoms began with a list of increasingly confusing questions. Will she care for me the same if I don't tell her that the moon doesn't control the tides of my emotions because they are so tightly wound in the curl of her smile? Love is NOT the sweetest medicine. It can't be because every time I try to swallow it the lump in my throat only gets bigger. Why is it so hard to say how I feel when every molecule in my being vibrates with the aura of her existence? She's hard to forget, but I can't bring myself to remember much of anything else if I try. Love, the cure of the heart, feels more like the carrier of my illness. A viral rampage that only leaves broken promises of heaven in its wake. However, it's a surreal kind of catastrophe, a wondrous and beautiful dilemma. The kind in which options A, B, C, and D are all the right answer but if I pick any one, I am sure to be wrong - so I bubble randomly and hope she forgives me.
That's my flavor of love. Cherry. For you, it's different - isn't it? Yours is more like grape. Or orange.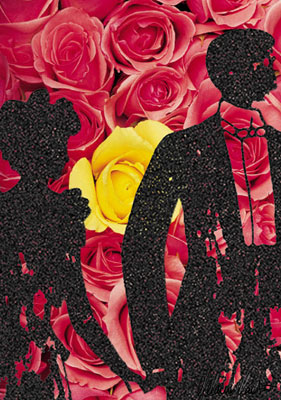 © Melanie M., Hendersonville, TN