Bright Eyes
July 4, 2016
Bright eyes.
messy hair in the morning
and clumps that fall out in the shower
when the cleaning lady comes.
Pale skin.
metaphors extended a little too far left
and not high enough right.
words that jump recklessly off
the tip of a thick flesh tongue.
syllables that gurgle in the cauldron
in the back of the throat
and makes noises a little too shaky.
Knobby elbows.
words spoken in my ear at age ten
a little too sharp to wrap my arm
around someone's neck
no wonder I bruise so easily.
Train tracks.
every other limb mistaken
for a railroad, the kind
the damsel is always tied to
the kind that pounds
rhythmic sentence structure
and uses slant rhyme
for a warning.
Atomic bomb.
inside my chest, didn't
they ever tell you not to trust
a girl with a time stamp
or a sell-by date
with an unreadable anticipation
and expectation
to explode.
a girl
with bright eyes.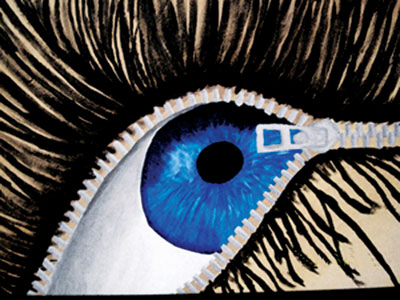 © Brad S., Lecompton, KS