New School
June 29, 2016
A fresh start.
Entering the building which,
Someday, I will be able to
Navigate on my own.
But for now,
I am lost.
Staring at a sea
Of strange faces.
Gathering up the courage
To ask someone to
Show me the way.
But I can't.
I'm invisible.
Getting confused
By the maze of
Hallways, classrooms, and people.
Trying not to panic
As I stumble around wildly,
Looking for the place
Where I am supposed to be.
I wish with all my might
To return to my old school.
Why did we have to move?
I long to see
Those familiar faces
And roam those
Familiar halls.
How long will it take me
To get used to
This new school?
How will I ever
Survive in this place?
My eyes lock with
A friendly face.
I timidly tap the girl
On her shoulder,
And ask her to
Show me the way.
She agrees, and
I sigh with relief.
Now I just have to
Repeat this pattern
For eight more periods.
Seven, actually,
Because I know where the
Cafeteria is.
I think I can survive.
Hopefully.
A few months later,
I am cruising through the halls
Like a pro.
I'm with my friends,
Chatting, laughing,
Having a great time.
I can't believe
I'm still the same person
I was at the start of
The school year.
This new school
Is not that bad.
I think I'll give it
Another chance.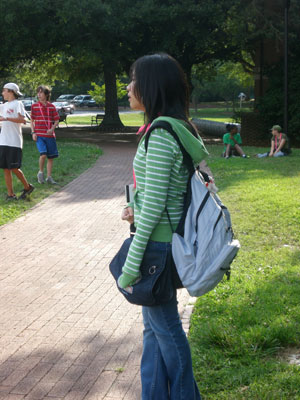 © Lucienne B., Parkland, FL