An Artist and her Brush
June 4, 2016
I am a Kolinsky sable brush.
I hope I don't sound like a braggart, but I am a supreme, elastic soft hair brush that forms a beautifully shaped long pointed tip and allows effortless control of the paint flow.
And the day this beautifully crafted brush meets a pair of beautifully crafted hands of god, my journey truly starts.
And I go with the flow, as the days go by…
I am an artist.
I am now who I am today thanks to my hard work, my passion and those who have supported me. I think there is nothing more beautiful or enjoyable in the world than splashing out your emotions on a canvas and showing them to all humanity.
But every paintbrush needs the perfect artist, and every artist needs the perfect, compatible brush she desires. And I finally find the brush I desire.
And I go with the flow, as the days go by…
My chum doesn't need to tell me why she is so happy today.
Why she has such a large smile, whys she skips around the whole place.
The moment she holds me with her firm, yet gentle grip, I know everything.
And I smoothly skid across the page.
As I paint a spectrum of colours rising from the earth.
As I create a world, where the sun is always in the sky and shines above us.
I find peace.
I find true peace amongst this breathtaking scene.
So I take a loose, a free grip on my mate, as I bring into being, a work that conveys these feelings of mine.
And my brush elegantly glides from corner to corner.
As I paint these tall, great and majestic mountains.
As I recreate the breaking darkness, the blazing sky.
Ours is a strange relationship. We have no need for words to understand each other. All we need are these feelings.
Her radiant face of usual is now devoid of colour.
She sulks and sighs and she longs to go back to good times with me- she wishes to regain her lost sky.
And she grasps me with her slack, lifeless hand; I plunge into the black.
And then I swing and sway on top of the paper.
As I paint a world immersed in darkness.
As I form a sad face, a glistening jewel falling to the ground.
I experience anger.
I experience anger beyond all bounds.
And I take a tight and shaking grip on my companion, which I can't help but not to do.
So my brush tries to help me take out this spontaneous outburst of emotion of mine on the canvas.
And my brush flawlessly jerks from point to point, steps from side to side with sharp movements, upon this canvas.
As I paint mankind in red.
As I fabricate volcanoes on the earth, rain clouds in the sky.
Ours is a peculiar relationship. We were, are and always will be for each other, in bright and dark times- be the world be for us or not.
I perform a different dance each time; each one no less intriguing.
And my pal, the artist dips me in her own soul, and paints her feelings into every new world we blow life into…
As I am a paintbrush and my world is my canvas.
Me and my brush carry out a new recital every time; each one no less fascinating.
And I immerse my comrade, the brush in my soul, and I paint these feelings which my buddy understands so well, as we bring various things into creation...
As this artist borrows help from her brush, to create the world she dreams of on a canvas.
We are not lovers, yet more than friends. Yes, an odd yet special bond indeed.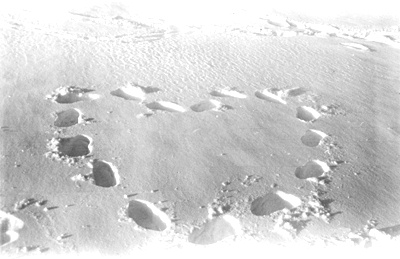 © Kim B., Marblehead, MA