My Love for him
May 19, 2016
This Love is so painful, 
it is sometimes hard to love him.
We live in two different worlds, but under one sky.
Just that thought is what makes me smile, and reminds me that we not that far away from each other as it seems.
It hurts, knowing I love him without knowing him, and him not knowing I exist.
I can only support him from afar, but at least he knows that supprot exist.
My heart pains knowing that there is barely a chance of a happy ending for us.
But the least I want is to make him to smile everyday.
But I can't even do that.
So many things I can't do for him pains me.
I can always picture him in my head.
I can always hear his voice singing in my head.
I want to meet him.
I have so many questions to ask.
But the one I want to ask the most is "Are You Happy?"
I cry every night when Reality hits me.
Reality hurts. My hearts rips and tears in pain. It was both physical and mental. I always felt it. So painful to bear.
Sometimes I can't even breathe.
Couldn't even think.
Everything was him.
Everything reminded me of him, from the colors of the rainbow, to the faces and things my friends do.
It hurts.
But I beared it.
Because he was worth all that pain. 
But sometimes I wish I never met him.
Because he always hurt me unintentionally, and not knowing.
In the cold days of December did I discover him.
His smile always warmed my whole body.
My whole body shivers from the pain of loving someone.
I never really cried, because I always held it back.
But When it came to him, I always cried.
When I see him with someone, I don't know if I should be jealous or happy.
I always thought that if I ever met him, would we become friends?
Would we become even more than that?
So many questions, no answers.
But I am happy that I met him.
Because he makes me laugh and smile.
He was the one who pulled me from the shadows. Into the light.
My Savior was he.
And I will never leave him.
He gave me dreams and confidence and things no one else has ever given me. Not even my closest friends.
I never told anyone about him. Because it was already too painful to een think of him.
So I just put him deep inside me, in my heart, where there is always a place for him. Always.
And Forever will I love him. Forever.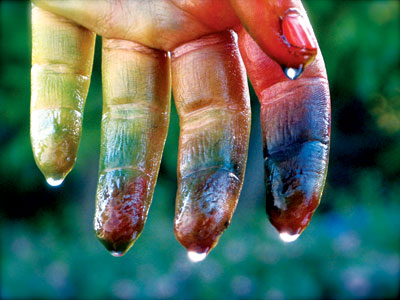 © Allison F., Menlo Park, CA