The sea & war
May 4, 2016
Calm, beautiful and careless is the sea
While war is an ugly thing to watch or see
The sea flow smoothly and is always blue to the human eye
But war, my men of arms, is filled with redness of the men who dies
But is the sea always this calm?
Does it always feel as soft as a baby's palm?
What about war? Is it always filled with chaos and men dead?
Will it ever be as peaceful as sleep when a person lie down to bed?
No, I tell you men, the sea isn't always calm and beautiful
It can make walls called tsunamis which kill people by the handful
No, men, war wil no always be devastating and horrible
When peace in war comes, war is tolerable
But why would the sea kill? Why does it throw people away like bones?
Would you believe it, the sea has a mind of its own
As dos war, when it comes, and can't be controlled or tamed
Yet, you brave men, are here today with your hears aflamed
My men of war shall be victorious over sea and war
My time here is up, for i see bright lights at the golden door
Go now, my men at arms, and take with you my last message:
"Never lose faith, Never give up, Remember what we fight for and Never leave your brother behind."
Signed the Brave Soldier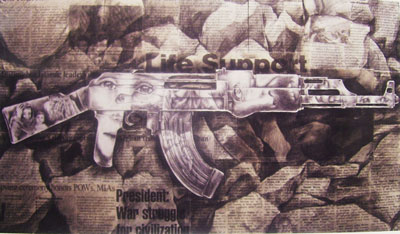 © Claire V., Lubbock, TX