A Day in the City
MAG
February 17, 2016
Did you see her?
She was playing on the playground,
pigtails waving,
giggling,
as she slid down that bright red slide.
Did you see her,
kicking mulch,
creating piles of memories,
with rubber soles?
Did you see her,
flying high,
up and down,
down and up,
laughter overwhelming
the creaking chains?
Did you see her,
little hand waving
to her mother
sitting on the bench,
smile bigger than the seat,
full of love
and admiration,
for the little girl
growing up too fast?
Did you see her,
chasing that squirrel,
when it hopped in front of her
in the sandbox?
The sand went up
and never came down,
sucked into the vortex
of a new reality.
Did you see her,
when she fell,
body limp
before she even hit the ground?
Did you hear the shot,
piercing her laughter?
Did you see the bullet,
shattering her skull?
Do you see the blood stains,
embedded into the pavement,
in the shape of pigtails,
of the young girl,
that you didn't see,
when you pulled that trigger?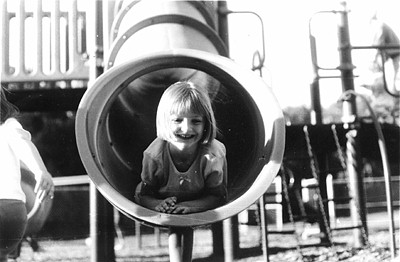 © Lara C., Norwalk, CT