For Her (Part I)
MAG
February 17, 2016
We were two lost children separated in a crowd
on a sun-baked beach.
The vulgar noise of the throng drowned
the sound of the waves.
Two hands reached into each other; we lifted
our eyes
and held each other's gaze for the first time.
The wind lifted, the sand shifted, and suddenly
the ocean opened up its sonorous breathing.
When we looked again, the beach was empty;
traces of umbrellas were bobbing away
in the currents.
The sun sank and blushed a gentle rose color,
the wind soothed our scorched lips,
the sky poured out its inky soul for us, and stars
peeked out from behind violet clouds.
Hand in hand, we waded, tentatively,
into the soft lap of caressing water.
We floundered in the delight of the coolness,
and let ourselves be rolled into seafoam,
like being carried off by clouds; we clasped
each other
as the sea embraced us into its infinity.
When we opened up our eyes under water,
we recognized the marvelous, shining realm
of love.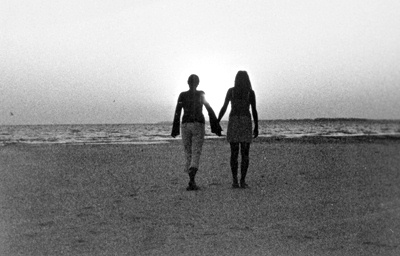 © Kim B., Marblehead, MA