How to Survive a Fairy Tale
MAG
January 31, 2016
Homage to Neil Gaiman's poem, "Instructions"
You awaken to a black void.
As your eyes adjust to the velvety darkness,
You discover a golden door to a world
of possibility.
Open it.
As you step boldly over the threshold,
You see a yellow road paved with chipped bricks.
Follow it, but be watchful.
You will encounter a tin man rusted to the
color of copper.
He holds an oil can and an axe suspended in air.
Take the ax and oil the tin man with a
mother's tenderness.
Then be on your way.
You find a tower, with choking vines entwining
its massive gray walls like a living prison.
Use the ax to help you climb the tower, or
use golden hair from the princess at the top.
Call her by name, even if it is the wrong name.
She's been there a while; she's listening like
a small child hungry for a story.
Take the princess in your arms and slide down
the tower with your axe.
Give her the ax and say "You'll thank me later."
Then run.
Pray that she knows how to use it.
As daylight fades, follow the North Star to find another predictably huge castle.
A boy in green, lounging in the shady trees, will offer you a bow and arrows and ask you a favor.
Take the bow and arrows, but keep a distance from the boy.
He will take anything you have, and justify
it with words about stealing from the rich
and giving to the poor.
Sleep in the light of the cold-hearted moon.
Walk beneath the gaze of the short-tempered sun.
Know where you are at all times.
In fact, take a map from a nearby village.
Soon enough, the strange mountain from
your dreams will appear.
Scale it, then enter a gloomy cavern near the top.
You will see nothing, except for a shining light
at the center of the room,
With a rock and the hilt of a sword sticking out.
Grab the hilt, unsheathe the sword, and realize who you truly are: a hero.
This, of course, means the immediate arrival
of a terrifying dragon to help you complete
your destiny.
After several minutes of non-stop rivalry
and battle,
You discover the mighty beast's true weakness: kindness.
You drop your sword and place a hand on
the dragon's fiery nose.
Everything will gleam a pure, white, bright
light as you wake up.
Once again in that black void, with a golden door of limitless possibility
Just waiting to be opened.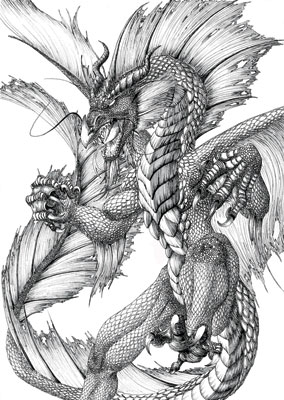 © Lauren R., Belmont, MI