13 Ways To Look at an Apple
MAG
December 1, 2015
1.
Sweet yellow breeze
of young August
carries the flavor of
wild apples.
2.
Open the truck bed
out fall the apples.
3.
Skin pushes back
against prodding fingers,
crack and sink in.
4.
Too round to fit the slicer,
a carousel of lines
encircles the dome
of fall Honey Crisp.
5.
A girl perches
on the wrought iron balcony
Juliet of the apple trees.
6.
Blush and gold,
bitter spring,
cider, juice,
hot pie.
7.
Fingernails scrape the seeds
from their caves,
cracking black-brown jewels
to find cotton fluff and green.
8.
Mushing out between toes,
the last apples of the season,
wet and sweet.
9.
The plague spreads,
fingers of frost catch
the life of one red apple
still clinging to the tree.
10.
"I can eat the whole thing."
"Even the stem?"
"Watch me."
11.
Store brand wax,
as edible as a sculpture,
farmer's market fresh,
breaks before the teeth,
neither smell like before,
something is missing
in the yellow summer scent.
12.
A home for worms
left behind,
all of us one day.
13.
I brace my hands on either side,
pulling down the center,
bite my lip,
pull as the apple cracks
in perfect halves.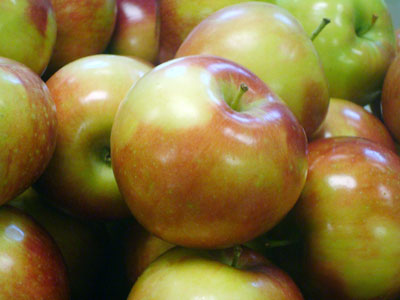 © Jorie S., Scio, NY